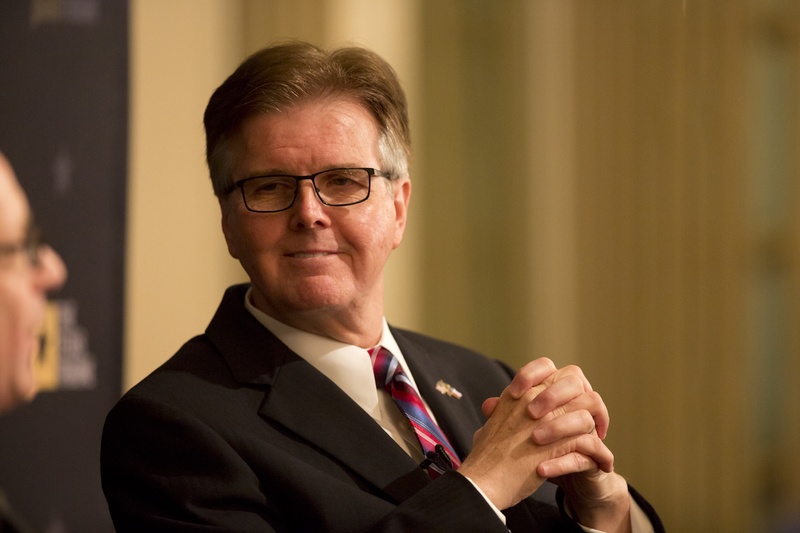 Editor's note: This report was updated with comments from New England Patriots quarterback Tom Brady.
Lt. Gov. Dan Patrick asked the Texas Rangers and Houston Police Department to team up in finding New England Patriots quarterback Tom Brady's football jersey, which was stolen Sunday night after the Super Bowl, according to an emailed news release.
"In Texas we place a very high value on hospitality and football," Patrick wrote. "Tom Brady's jersey has great historical value and is already being called 'the most valuable NFL collectable ever.' It will likely go into the Hall of Fame one day. It is important that history does not record that it was stolen in Texas."
According to the news release, Brady's jersey was stolen from the Patriots' locker room at NRG Stadium in Houston. The Patriots beat the Atlanta Falcons in Super Bowl LI, 34-28.
The Texas Tribune thanks its sponsors. Become one.
"I'm a Texans and Cowboys fan first, but the unquestionable success of the Super Bowl in Houston last night was a big win for our entire state, and I don't want anything to mar that victory," Patrick said. "Whoever took this jersey should turn it in. The Texas Rangers are on the trail."
A spokesman for the Texas Department of Public Safety, of which the Rangers are a division, confirmed Monday afternoon that DPS has offered assistance to the Houston Police department but did not specify what that assistance entails. The Houston Police Department directed all inquiries to NFL security.
In a post-game interview Sunday, Brady explained that he hoped to see his jersey returned.
"The jersey ... I put it in my bag and then I came out it wasn't there anymore," Brady said, according to ESPN. "It's unfortunate because that's a nice piece of memorabilia, so if it shows up on eBay somewhere, someone let me know. I'll try to track that down."
Read more about Dan Patrick here: